Home -> About Andaman -> Histo. Sites
Historical Sites Andaman Islands
Cellular Jail, Port Blair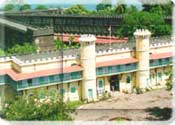 Cellular jail, located at Port Blair, stood mute witness to the tortures meted out to the freedom fighters, who were incarcerated in this jail. The jail, completed in the year 1906 acquired the name 'Cellular' because it is entirely made up of individual cells for the solitary confinement. It originally was a seven prolonged, puce-coloured building with central-tower acting as its fulcrum and a massive structure comprising honeycomb like corridors. The building was subsequently damaged and presently three out of the seven prongs are intact. The Jail, now a place of pilgrimage for all freedom loving people, has been declared a National Memorial. The jail museum here draws your memories back to those years of freedom struggle. Son-et-Lumiere (Sound & Light Show).
The saga of the heroic freedom struggle, brought alive in a moving Son-et-Lumiere, in the Cellular jail, is very popular among the tourists. Every day, the Hindi shows starts at 5.30 PM. English show is available on Mondays, Wednesdays and Fridays at 6.45 PM. On Tuesdays, Thursdays, Saturdays and Sundays the second show at 6.45 PM again is in Hindi. On days of English shows, there could also be a third show in Hindi at 8PM subject to the minimum prescribed demand.
Ross Island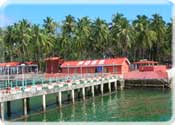 This small island in less than a sq. km area that stands right across Port Blair, encompassing in a way the entire life of the Andamans. It was once the home of the indigenous tribe - Great Andamanese, whose number dwindled from 5,000 to just 28 within 20 years of the initial British occupation. The island served as the capital from 1858 till 1941, when the Japanese occupied it and converted it into a PoW site.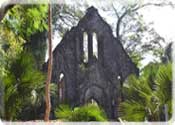 The ruins of the church and the Chief Commissioner's house among overcrowding vines and aerial roots are the most evocative of the remains. Private Ferries operate from Aberdeen Jetty in Rajiv Gandhi Water Sports Complex at 8.30 am, 10.30 am, 12.30 pm and 2 pm. Service is not available on Wednesdays. The boat will take you across from the Aberdeen Jetty and bring you back after an hour's stay.
Viper Island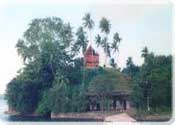 The island derives its name from the vessel 'Viper' in which Lt. Archibald Blair came to the islands in 1768 with the purpose of establishing a Penal Settlement. The vessel, it is believed, met with an accident and its wreckage was abandoned near the island. Gallows built on top of a hillock, visible to all prisoners in the island, signified death. Sher Ali, the Pathan, guilty of murdering Lord Mayao, was condemned to death and hanged at Viper Island.
The Jail at Viper, where prisoners deported from the mainland were confined, was built by the British under the supervision of Major Fort. Work on the prison was started in 1867. Owing to the working conditions, the jail earned the notorious name Viper Chain Gang Jail.