Parks & City Sites in Andaman Islands
Rajiv Gandhi Water Sports Complex, Port Blair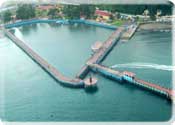 The first of its kind in India that offers aqua sports facilities, safe-water sports and adventure- water sports, under one water sports complex.
Gandhi Park, Port Blair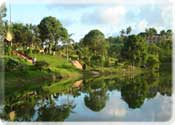 This beautiful park at Port Blair has nature trail around the lake, garden, restaurant and historic remains like Japanese Temple as well as a bunker. The erstwhile Dilthaman tank, which was the only source of drinking water to Port Blair, and the area around it has been developed Gandhi Park in an as unbelievably short time of 13 days. Open on all days. Timing: 9:00 am to 7:30 pm.
Mini Zoo, Port Blair
Mini Zoo is situated at Haddo (Delanipur-Chatham road). It houses some of the endemic birds and animals of these Islands. The zoo is being relocated in the newly opened biological park at Chidiyatapu. Time: 8.00 am - 5.00 PM. Monday closed.
Chatham Saw Mill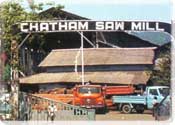 The Chatham Saw Mill is one of the oldest in Asia, built on a tiny island and connected to Port Blair by a bridge. Within the Saw Mill compound, the Forest Department has put up a museum. It offers an insight into forest activities through scale models and display decorative pieces made of Padauk, Marble, Peauma, Gurjan, Satin Wood etc. Closed on Sundays & Industrial Holidays. Timing: 9:00 am to 2:00 pm.
Science Centre, Port Blair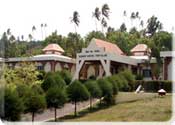 Science Centre, situated 5 km from Port Blair town, has volcanic activities, science of oceans, fun science gallery, modern technology gallery, Taramandal (portable planetarium), open air science park and an in-house butterfly corner offer a kaleidoscope science spectrum. Open on all days during 10.00AM to 5.30 PM except Mondays & Public Holidays.
Sippighat Agricultural Farm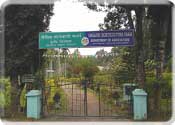 Covering over an area of 80 acres and located 14 kms west of Port Blair is a government farm for cultivation of spices like cloves, nutmeg, cinnamon, coconut and pepper etc. The Research and Demonstration farm of the Central Agricultural Research Institute (CARI) is nearby.
Biological Park, Chidiya Tapu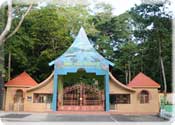 A biological park has also recently been opened for tourists.
Mount Harriet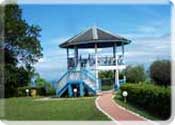 Mount Harriet (55 Kms. by road / 15 Kms by ferry and trek from Port Blair). It is the highest peak in the South Andamans (365 meters high). Conducted tours to Mt. Harriet are available from Andaman Teal House.
Madhuban
Madhuban (75 Kms. by road / 20 kms. by ferry and trek road from Port Blair). One can visit Madhuban from Mount Harriet by trekking through the jungle approximately covering 16 Kms. Exotic endemic birds, animals, butterflies are interesting sights of the trek.